By Luganda David, AFMC/NECJOGHA
EAST AFRICA: The IGAD Climate Predication and Applications Centre (ICPAC) in its latest forecast for July 2019 indicates high chances of drier than average conditions over South Sudan, western Uganda, northern and eastern Ethiopia, and parts of eastern Sudan.
"The drier than average rainfall forecast over northern Ethiopia and South Sudan should be closely monitored, considering that the month of July is one of the most significant months contributing to the June-September season in the northern part of the Greater Horn of Africa. On the other hand, parts of Sudan and western Eritrea are likely to experience wetter conditions. Off-season rains are anticipated over some parts of the equatorial and southern parts of the Greater Horn of Africa, which are normally dry and cold in July, "a release on Tuesday June 18th The IGAD Climate Predication and Applications Centre (ICPAC) said.
ICPAC is a Regional Climate Centre which provides medium range and extended climate forecasts that are required by Intergovernmental Authority on Development (IGAD), the National Meteorological and Hydrological Services (NMHSs), and other national, regional and international partners.
The ICPAC release also gives a preview of the rainfall situation for May and early June as follows: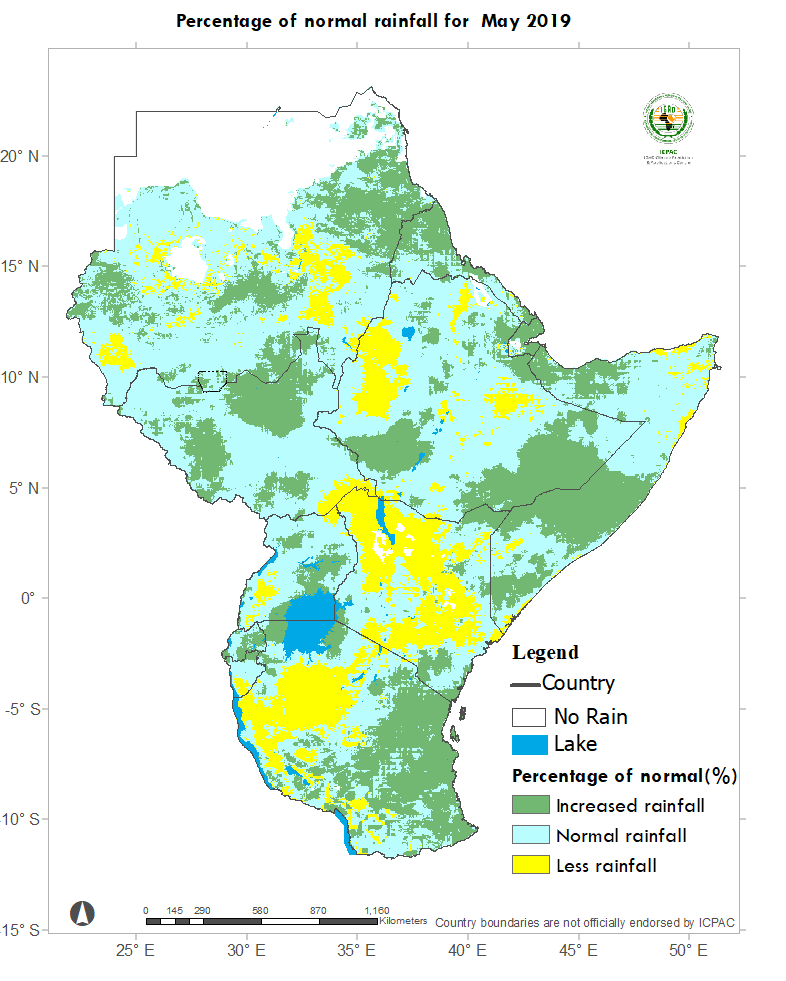 Scattered showers in May brought relief to the extended dry conditions that persisted across much of South Sudan, southeastern Ethiopia (Gode), Djibouti, and northwestern, central, and southern Somalia (Hargessa, Bakool, Hiiraan, and Jubbada Hoose), while off-season rains extended into Eritrea and eastern Sudan during May 2019.
Wetter than average conditions were observed in western Sudan, eastern Tanzania, Rwanda, and eastern half of Uganda.
On the other hand, northwestern/northern Kenya, from Turkana to Garissa remained dry during May 2019, although a few showers were experienced in late May to early June 2019
Observed rainfall patterns in the first ten days of June indicate wetter than normal conditions over most parts of the Greater Horn of Africa, including western parts of Kenya, most parts of Ethiopia, South Sudan and Uganda, eastern parts of Somalia and southern parts of Sudan.
Drier than normal conditions were recorded over the south eastern parts of Ethiopia, southern parts of Somalia, eastern parts of Kenya and Tanzania.
ICPAC member countries are Burundi, Djibouti, Eritrea, Ethiopia, Kenya, Rwanda, Somalia, South Sudan, Sudan, Tanzania, and Uganda.